---
---
The following list while not comprehensive, provides some key characteristics of biopharmaceuticals / biologics:
1. They are produced within 'Living Cells'.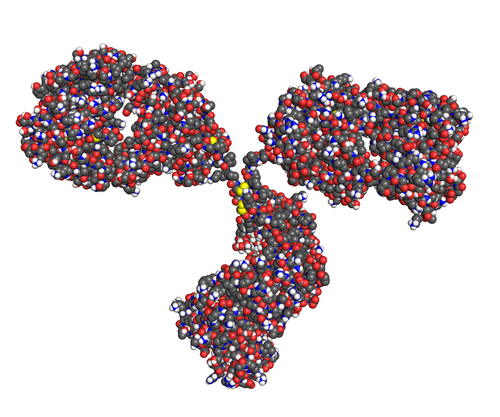 2. They are proteins in most cases although more recent developments have seen nucleic acids entering the fray as therapeutic agents.
3. They have very large molecular weights and by extension tend to be very large molecules. (This is why they are often described as macromolecules).
4. Structurally, they are also very complex as demonstrated in the accompanying space-filling diagram of a monoclonal antibody. This complexity goes hand-in-hand with their large molecular weight.
Biopharmaceutical Characteristics

Made in Living Cells
Proteins
Large molecular weight
Structurally complex
Heat labile
Heterogeneous
5. As a consequence of their size and structural complexity, they are highly sensitive to environmental factors such as temperature. In most cases these products have to be stored at low temperatures (2-8 degrees Celsius) to ensure structural integrity.
The activity of macromolecules and proteins in particular, is directly related to their three dimensional structure. This gives a clue to the mechanisms through which loss of activity occurs when protein-based drugs are stored or transported under poor conditions. Effective 'Cold Chain Management' is therefore critical.
6. Macromolecules and again proteins in particular, tend to be heterogeneous in nature. This means that multiple forms of the same protein often co-exist in any given formulation. (These variants are called Isoforms). As a result, biological drugs even at the end of the formulation process tend to be of mixed composition as opposed to a single distinct protein. Changes in the composition or the ratio of these isoforms can and more often than not, will affect efficacy and safety.
[adsense728x90DefaultLBToAppearHere]